Volume 1, Pala Range and Kopili Valley
Edited by Thomas Arbenz

---

WINNER of the prestigious France HABE Prize from the UIS Department of Karst and Cave Protection of the International Union of Speleology. UIS France Habe Prize 2013
---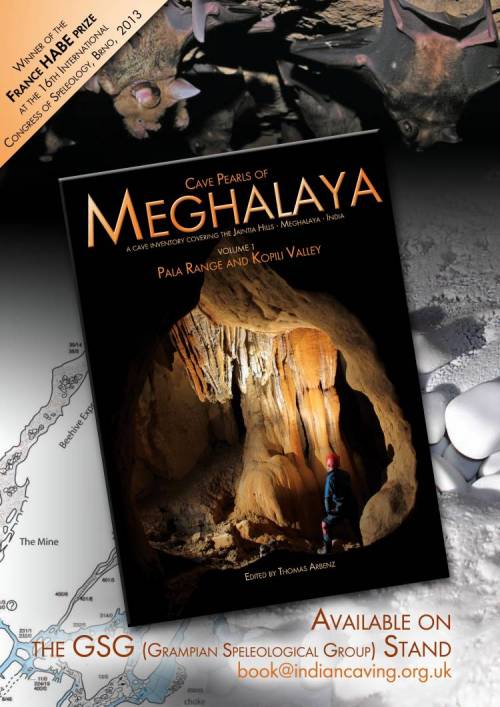 It is an A4 sized hardback of 265 pages in full colour and covers the exploration of caves in the Pala Range and Kopili Valley. There are chapters on Meghalaya, on the 2010, 2011 and 2012 expeditions in that area, and also on the geology, subterranean ecology, spiders and bats. The second half of the book is devoted to cave descriptions each with survey and photographs plus a list of minor caves and other sites of speleological interest. An unexpected (to me) bonus is hidden inside the back cover - a CD with surveys of the six longest systems, a satellite view of the area with cave surveys superimposed, and an article describing the identification of two new species of bat.
You can buy one for £26 in Edinburgh - or. if you live further afield cost is £32.30 to include postage and packing within the UK. We will be using 'caver mail' as much as possible to reduce postal costs and keep cash back to fund the printing costs, and help towards production of volume two. Volume One is well worth the price and buyers are encouraged to contribute more as Gift Aid to help fund the next volume.


Please use this contact form to order copies of the book:

---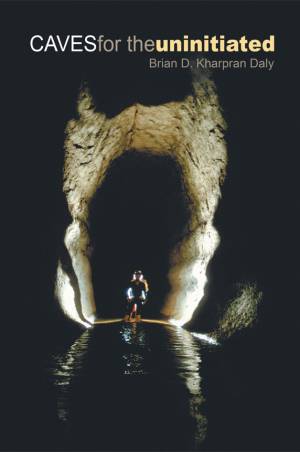 By Brian D. Kharpran Daly
While this extraordinary book is delivered as a work of fiction, Caves for the Uninitiated contains valuable, real-world information about caves and cave sciences. It is based on the actual experiences of author Brian D. Kharpran Daly, who has been exploring caves in his native Meghalaya, India, for over 20 years.
This is the story of a group of young boys and girls, who after exploring a cave for the first time, become fascinated with the world of caves and caving. Inspired and awed by the beauty and splendor of this mysterious underground realm, these young cavers spend several days with a pair of veteran caving experts. The seasoned pros share their knowledge of caves, cave conservation, and caving as a sport with the kids. At the end of their instruction, several of the children decide to take up caving too, so they can discover their own underground adventures.