---

Caving in the Abode of the Clouds Project, Meghalaya, N E India.
(The British Cave Tourism visit to the State of Meghalaya, India)
NOVEMBER 1992
During the month of November 1992 four British Cavers, Simon Brooks from the Orpheus Caving Club and Rob and Helen Harper and Chris Smart from the Bristol Exploration Club visited Meghalaya for the purpose of making an initial exploration of the Karst and Caves of the area as part of a cave tourism visit. Meghalaya in North East India was previously the old state of Assam and was known to contain several caves.
On the 28th of October our party, flew from London to Calcutta. A day was spent in Calcutta sorting out formalities before we flew to Gauhati in Assam and then travelled by bus to Shillong, the capital town of Meghalaya. There another day was spent with formalities and meeting people with whom we had corresponded with over the previous months, all of whom were extremely helpful.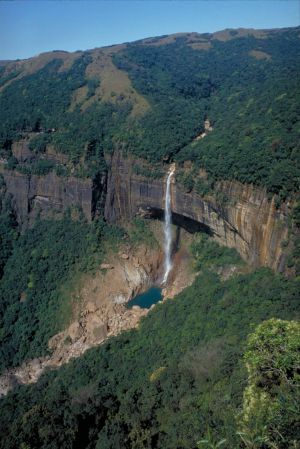 Hiring a local taxi driver, by the name of Mr Noro who was to become our chauffeur, guide and interpreter over the next two weeks the party headed south to the village of Cherrapunjee in the Khasi Hills close to the Bangladesh border. Cherrapunjee once had the distinction of being the wettest place in the world and we had references to two caves, Krem Mawsmai and Krem Mawmluh.
After a nights rest in a Circuit House we visited Krem Mawsmai. Over a period of two days this cave was explored, surveyed and photographed yielding some fine passage, being a little over 500 metres long. This system can be divided into two parts. The old cave which had been previously known and well explored, consisting of large passage containing some impressive stalagmite formations - sadly now much disfigured by the soot from the kerosene torches used by local guides. Linked to this by a short climb is another 250 metres of large dry passage and chambers whose equally impressive formations are as yet unsullied.
The old Assam Gazetteer of 1922 indicated that there was another potentially much larger cave in the area. With help from local people we located and the entrance which proved to be a substantial river disappearing into a large underground passage. Over the period of the next four to five days in excess 3700 metres of fine river passage was explored, photographed and surveyed. Most of it was of impressive size being up to 30 metres wide in places. Besides the main river, seen at the entrance, side passages containing two other underground rivers were found and several alternative entrances in the nearby hillside were located. Contrary to the local folklore the cave is relatively unaffected by the blasting in the Quarry above and at its furthest limit is still several kilometres short of the Bangladesh border. The cave is known locally as Krem Mawmluh and became the then longest known cave in the Indian Sub-Continent.
Our party returned to Shillong where we had an unexpected but fortuitous meeting with the Chief Minister of Meghalaya. He very kindly arranged to have our Restricted Area Permit extended and for us to visit the village of Syndai which lies close to the Bangladesh border. For this visit a Government of Meghalaya official car was provided along with a guide and Police escort.
At Syndai our party first visited a cave close to the village, popular with Indian tourists, known locally as Krem Syndai. Accompanied by several local people, 400 metres of very large dry passage was explored that was impressively decorated with once-magnificent stalactites and stalagmites, now sadly in the process of being discoloured by the use of kerosene burning torches.
That evening the villagers told our party about another little cave nearby. Staying overnight in the circuit house in Jowai, we returned the following morning and led by local people descended a path behind the school house to a small entrance situated in a depression. Inside a climb down, through loose boulders, dropped into a chamber with another small climb leading into a large dry passage which, in turn led to another even larger passage. This was explored, photographed and surveyed for just under one kilometre. The cave passage was very impressive in size and initially superbly decorated with pristine stalagmite formations. The final section of passage was almost a perfect 25 metres square running in an absolutely straight line for over 240 metres. The cave was provisionally called Krem Sweep.
There are clearly more caves to be found in this area but our party had insufficient time in this fascinating region. We were extremely grateful for the outstanding assistance given by the local people and in particular by our guide Mr Pala.
Back in Shillong we picked up our old friend Mr Noro and his taxi and headed south west to the village of Mawsynram to visit a well known tourist attraction, the cave of Krem Mawjymbuin. This cave is used as a Hindu shrine and once again local folklore implied passages extending all the way to Bangladesh. However it was found to consisted mainly of a large entrance chamber and a few short side-passages, only 160 metres of passage in total, but formed entirely in a calcareous sandstone.
On returning to the village our party heard rumours of another 'little' cave about half a kilometres from the village, referred to as Krem Dam. Being obviously interested in this we made arrangements to visit it, and two days later in company with half a dozen of the village children and an appointed guide set we out to find it. Fifteen minutes steady walking brought the party to a deep valley where we were confronted by a massive entrance into which was flowing a large river. Over the course of the day over 1,200 metres of excellent streamway was explored, photographed and surveyed. Again this was formed entirely in a calcareous sandstone and is, believed to be, the largest sandstone cave in the Indian subcontinent. The cave consists mainly of one very large river passage ending in a roof collapse where daylight can be seen. There are no significant stalactite formations.
The following day we visited three smaller caves known locally as Krem Jynniaw in a river valley southwest of the village. These were much smaller in dimension forming a complex maze of passages in a thin bed of limestone in the left bank of a gorge but with a combined length in excess of 700 metres.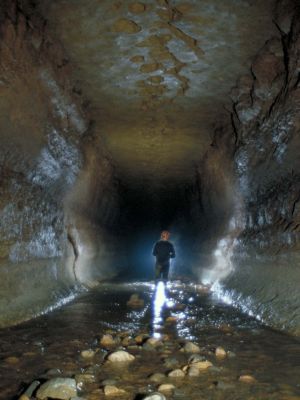 Returning to Shillong our party said goodbye to Mr Noro and the many people who had helped us and, after a long overnight bus ride, we arrived at Tura the principal town of the Garo Hills. After some problems changing money our party was able to hire a jeep and accompanied by the tourist officer, Mr. Momin, headed for the Simsang river valley and a cave called Dobhakol Cave near to Siju village. This cave was quite well known and had been explored and surveyed for 1,200 metres in 1922 by members of a biological expedition from Calcutta. Over the next two days the cave was explored extending its length by 1,700 metres, most of which was along some beautiful river passages. The cave consists, in the main, of a single major river passage containing a sizeable stream. At various points along this large boulder chambers are met containing huge colonies of bats. There are also side-passages some of which bring in tributary streams.
Leaving the Simsang river valley the party them made a visit to the Balpakram National Park to see the wild elephants and tigers and to follow up old references to disappearing rivers. No elephants or tigers were seen but everyone was impressed by the natural grandeur of the area. Conversations with people in the local teashop yielded stories of not one but at least two disappearing rivers allegedly running underground for significant distances. However this was at the end of the trip and the need to return to Calcutta for our flights home precluded spending any further time to check this information.
Our party then made an uneventful return to Calcutta and after an enjoyable day there flew back to Britain with an overnight stop-over in Jordan.
This initial caving tourism visit had been most successful with over 9,000 metres of cave being explored and surveyed by a group of four. Our party was extremely impressed by the kindness and co-operation of the Meghalayan people at all levels. It was realised that there is undoubtedly much more cave passage to be found and it was hoped to be able to return and continue the cave exploration.